China exports growing
Manufacturers adapt, rebound after global recession
HOUJIE, China — In recent years, many of the headlines involving China's manufacturing sector — including its furniture industry — have focused on labor shortages, rising labor costs and factory closings that have challenged a once-thriving industry in this coastal region of China.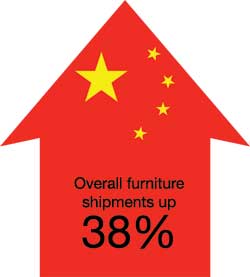 Duties on bedroom furniture also have shifted much of that product, as well as companion dining and even some occasional that is part of collections, to Vietnam.
That said, China remains the most important international source country for U.S. wholesalers and retailers alike. In 2015, for example, China shipped $13.7 billion in residential furniture to the U.S. market, up nearly 12% from the year before. In addition to achieving double-digit growth off an already large number, the country accounted for 57% of the total $23.9 billion in wholesale furniture shipments from around the world.
Chinese manufacturers also shipped more than four times the total of the next largest source country, Vietnam, and more than five and a half times of Canada and Mexico combined, which are the two next most important source countries for the U.S. residential furniture market.
Formula for success
In early June, Furniture/Today caught a glimpse of why China remains successful after visiting a dozen manufacturers in southern China, a region that bore the brunt of the global recession. Combined with rising labor costs and U.S. government-imposed duties on wooden bedroom, the industry has suffered as big an economic downturn as at any point in its history.
The factories visited ranged from large scale producers such as Man Wah, which can ship some 4,500 containers of finished leather and fabric upholstery — all export, to smaller producers where workers still produce hand-painted accent pieces one at a time.
Man Wah indeed is one of the largest upholstery manufacturers in the world, producing nearly a million sofa, loveseat and chair combinations a year for both export and domestic markets. Its Huizhou facility is devoted to exports, much of which is shipped to the U.S., while other plants in Tianjin and WuJiang produce for the domestic market.
Company CEO William Guy Ray attributed much of the company's success to its workers, its corporate leadership and its facilities. Also important, he noted, is the vertical nature of the operation, which ranges from the production and testing of its own mechanisms to the production of its own springs, frames and foam.
"Without a doubt, this is the best manufacturer in the world for upholstered furniture," he said, noting that while there are some other good plants in China that are very aggressive, Man Wah has the capacity, the skill set and a vertical operation that "builds a superior frame and product."
The company also competes aggressively to recruit and retain workers, offering dorms that from the outside look like luxury condos. These facilities house roughly 70% of the 7,000 workers at this site, and the other 30 live off site, Ray said.
In addition, Ray noted, the campus has a sports center where employees can work out, a movie theater, and even has a greenhouse that grows its own fruits and vegetables.
Lacquer Craft, which primarily produces case goods, is another of the Dongguan area's larger producers. Its factory in Dalingshan is about 4 million square feet and employs about 1,600 workers, half of which live off campus.
While smaller than its 10-million-square-foot plant outside Shanghai that employs roughly 5,000 workers, the Dongguan area plant is one of the major woodworking operations in China. Starting from the rough mill to the sample shop and veneer room, it produces anywhere from 250 to 500 containers per month of finished goods and continues to be a major container direct supplier to well-known retail customers that include Art Van, Haverty's, Rooms to Go, City Furniture, Costco and Sam's Club.
Duty bound
One factor that has impacted the industry in southern China is the imposition of duties on wooden bedroom starting in 2005.
Large producers such as Lacquer Craft, which has a zero percent duty on wood bedroom, have managed to thrive in the bedroom business. As a result, it continues to produce bedroom and correlating dining pieces that form collections for its sister companies that include Legacy Classic and Universal, which are primarily served out of its Shanghai area plant.
But many smaller factories that have not been able to secure such low duties have either closed or shifted to Vietnam. Others are said to have shut down after the U.S. business went soft following the 2008 financial crisis.
It was unclear how many have closed or relocated since the duties went into effect in 2005, but those that remain in China have survived in other ways, including serving the domestic market or continuing to focus on niche categories.
"There have been shut downs, but we believe it is an effect of the market," said Charley Wang, vice general manager at Dongguan Famous Furnishings Import & Export Exhibitions Company, which is hosting an export focused fair this September. "The ones that have survived are the good ones. They have efficiencies that allow them to remain competitive."
Wang noted that plant closings in southern China have resulted not only from the weak economy, but also from rising labor and materials costs.
Exports still matter
Some producers attempted to shift their emphasis to the domestic market following the global recession. As part of this strategy, many have opened dozens of retail stores promoting their brands.
But as the domestic market has been weaker than anticipated largely due to sharp increases in housing prices that have priced many out of the market, some producers have shifted their focus back to exports, hoping to gain market share in the U.S., which is still the gold ring for many export minded Chinese manufacturers.
This includes both large and mid-size producers as well as smaller niche producers whose factories produce accent items ranging from curios to handpainted accent chests.
Bao Yi, for example, is a smaller manufacturer that produces pieces such as accent chests and vanity sinks.
It has been exporting for 27 years, the past 15 of which have been to the U.S. market. It shifted its emphasis to the domestic China market around 2008 but is planning to expand its export business this year.
Case goods and upholstery manufacturer RongFeng estimated that 100% of its business was export when it first started producing furniture in the late '90s. Over time that lowered to about 40% with the remaining 60% of its sales to the domestic market.
But now the company is looking to grow its export business, including to the U.S., which represents about a third of its export sales, said General Manager Jina Ji, who has been visiting markets including the U.S. over the past year as part of a plan to grow international business.
"The expectation is to do more export business and open new markets in the next few years," she said.
DeRucci, an upper priced bedding and bedroom resource, is looking to set up company stores in the U.S. market, hoping its contemporary styles strike a chord with consumers, particularly in urban markets such as New York.
In addition to the Chinese market, which represents about 80% of its sales, the company also sells into Italy, Germany, Japan, Australia and India. But if it hopes to grow in the U.S., DeRucci acknowledged it will likely need to adjust its styles to the preferences of U.S. versus European consumers.
Steel-Land, an upper end producer of contemporary leather upholstery, started in business back in 1993 first producing mattresses and then shifting to upholstery.
The company has been exporting for about 12 years, and today exports represent about 30% of its business, said Jackie Zhang, marketing director. The U.S. is about a fourth of that, but the company hopes to grow that business over the next few years, Zhang noted.
A main part of the strategy is to open Steel-Land branded franchise stores that focus on its quality story. But with competition from other well-known suppliers in the market such as Kuka, Man Wah and HTL, the company acknowledges it needs to learn more about the market and develop the right product, combined with a suitable marketing and branding strategy.
"We want to find the right partners to open franchise stores that have the right image," Zhang said. "We will have to spend more money for marketing and branding."